LDI 2019 took place November 22-24th in the Las Vegas Convention Center.  Attendance looked as good as ever, the pre-programmed shows were flashy, lots of video and LEDs everywhere.  Lets look at some the highlights of the show.
Fog / Effects
CITC had their new Hazer and Fog machine in the booth, they both feature the new "X-Cradle Impact Armor".  This is basically a frame of impact and scratch resistant aerospace plastic.  If you scratch the plastic up to and 1/8″ deep you can just heat it up with a heat gun and it will self heal (like T1000!) they are drop tested at 3′ and if they fall even further, because of the cradle, generally they survive falls.  Both units have an easily serviceable heater block, that you do not need to take the entire machine apart to get at.  The XF-3500 is a big output  1200w 35,000 CFM fogger, you can run continuous at 80% or so, they also have a lower output XF-2500.  The XH-1200 is a 1500w Hazer with some unique designs, on business end there are some fins and two fans on either side of the output nozzle.  This creates a better controlled airflow and turbulence so you can get better control and "throw" of the haze.  Since you can control both fans independently via dmx you can actually get some directional control over the haze, or so they say, also the fins give a little better push on the haze so it doesn't just die a few feet out.
From a long time company to a new-comer.  The Austrian manufactured AquaFog Low Fog Vario is hands down the best ultrasonic water low fogger we have seen.  This machine goes toe to toe with traditional methods of low fog without using any refrigeration systems.  A couple of unique elements of the system are that you can tune the amount of water and smoke independently.  This allows you to get the fog to hang just the right way for your environment.  The second is they don't just use a regular water based fog, they have it formulated to help be even drier to deal with condensation.  At the show it was running on a cycle and we found it near the end of the day and it was moist but not wet like basic machines of the same technology.  Unfortunately it currently only runs on 220v so that limits the user base, but for someone looking for low fog with much less hassle it is a solid option.
In the same product realm, Blizzard had the Big Bad Lo Fo on stage in their booth, looked to be running 3 minutes on and 10 minutes off.  Had solid output the whole day.  I swung by at the end of the day to see what the condensation looked like with it sitting on a hard surface.  And as you can see there was some but not the sopping wet mess we saw with the first generation versions of these machines.  This is a simpler and smaller machine than the aquafog vario, but it does run on standard 110v.
Magmatic is the new effect company from Elation/ADJ.  They have a number of solid products, a new snow machine with the remote head with improvements over the Antari unit.  The other unique product is the Rocket CO2 simulator.  As you can see in the above image the entire top is covered in LEDs that you can control in zones, giving you more color control over the fog burst.  In the booth they also had a line of UV Blacklight LED fixtures that seemed to have a very good true 365nm output.  We look forward to testing these in a controlled environment.
Another newcomer in a corner of the exhibition hall was Vapor Flame.  This is a unique effect product which slides into the color frame slot on various fixtures.  Supply it with pressurized water and air and you get a realistic looking flame effect.  On the show floor they had it on Colorado 1 Solos and from across the room looked like a flame, only up close did you realize it wasn't fire.  It currently is in 3 sizes, and since you can control it via dmx allows fine tuning and control of the effect.
Control
Blizzard lighting had their new SOCit wireless controller in the booth.  With its onboard Li-Ion battery it can run a show for 8 hours.  It will work with any of the wireless artnet apps or blizzards own @Full app.  This could be a great controller for basic shows that need to setup fast.
Chamsys unveiled the MQ70 at the new technology breakfast in by far the most entertaining part of the morning.   This compact console is designed to fit into a case and fit in the overhead bin on any airplane.  It has nice back lit faders and a 10″ touchscreen.  It can drive 24 (or 48) universes, mostly via network, has all the knobs and buttons you would get on a full size console.  It also has a built in UPS so your show can keep going if someone unplugs your console to charge a cell phone.  Don't miss the little brother MQ50 as well.
City Theatrical had some new multiverse wireless led dimmers.  The smallest is a 2 channel, and its not much bigger than a pack of gum.  It receives and outputs an entire universe of data using the new multiverse version of ShowDMX.  It drives 2 x 2.5a channels of dimming, really for LED tape.  They they also have a 5×2.5a channel version.
TMB has released a wide array of their ProPlex controls in a DIN mountable form factor, these are designed with the rigors of outdoor installations in mind, so they have been tested in enclosures at high temperatures and humidity.
Static Lights
Canto had a great application of the new Fusion Retrofit, for source four Pars.  Its a very simple install, just plug the adapter into the HPL socket, snap the LED assembly in where the lens went in the normal source four par and your done!  The fusion already has a great track record of working well with a variety of dimmers and surely this will fill a hole in the market.
Now a few quick hits here of new static lights:
Chauvet Ovation Cyc 1 FC – RGBAL Cyc light that looks very promising!
Blizzard Lux Capacitor – Bright WW blinder with RGB effects
Blizzard Mr. Stoboto – 800w strobe with RGB eye candy
Elation KL Panel – Super Bright RGBWLC studio soft light
Time Square Lighting Mosaic Line – a bunch of form factors of color mixing high CRI fixtures, track, canopy, recessed and portable mounts included.
Followspots
Pictured above is a 200+ foot throw, on the far left is a 3k xenon.  On top is a Lycian 1275, underneath that in the middle is a new 1000w LED from Lycian.  Very promising output, color needs to be tuned a bit.  Lycian literally finished this fixture on the show floor just to show what direction they are headed.
The opposite end of the spectrum is this tiny new followspot called the Zot Jr.  Its only 19″ long but has a 240w LED engine.  Optics looked good it is really for around a 50ft throw range, it comes pre-loaded with dichroics in the boomerang since gel gets cooked at that short range.  For something so compact its pretty impressive.
Hardware
Work Pro Lifters had a new 26ft tall line array lift the innovation in these lifts is they have a structural mode which allows for higher capacity than they can lift with their own winches.  In the line as well they have a very compact 700lb capacity with 16ft high lift.  What is impressive is collapsed down it is just over 5ft tall meaning you can stand it up in the back of a van saving space.   They also make a 575lb capactity 21ft tall version that's still just 5ft tall collapsed!
Avenger and Manfrotto Lighting stands will now be distributed by AC Lighting.
This is a neat new flexible hinge from Tomcat/Thomas/Area 4 they had a triangle of truss moving in all sorts of directions hung from the red eye in this picture.
Moving Lights
Martin expanded the ERA line, adding to the 400, the 600 and 800.  These all have white LED engines and a full feature set and seem to look great and price well.
Vari-Lite had a new VL5 LED.  Easiest way to describe it is take a MAC Aura and put the classic VL5 blade diffusion in-front of it, they can rotate to vary the frost.  For extra show, VL added an extra ring of LEDs to have a secondary glow to these fins.  It was difficult to see the output on the show floor but it certainly had a great look.
Chauvet added to the successful Rogue line the R1 Beam Wash, its an R1 in size and speed, but has 7x40w RGBW LEDs and the zoom range is now 4-37deg
High End SolaHyBeam 3000 – its really bright!
High End SolaPix – its really impressive in person the effect of the edges of the lenses is cool.
Clay Paky had its ever impressive demo show, the standouts were the new Sharpy Plus, including an IP65 version, the ReflectXion which is double sided DMX controlled mirror, and the show stopper Xtylos.  The Xtylos features a laser engine and creates beautiful saturated fat beams of light.  Its to be seen how the laser safety groups will deal with this new engine, but it looked awesome in the show.
The SGM G-7 BeaSt is smaller than I imagined it would be.  It has the unique 360w LED aerial beam effect combined with a 500w white led strobe in the center.
ADJ launched a bunch of new fixtures, most interesting wast the outdoor rated Hydro Series beam and wash.
Elation also had many new product introductions, including the expanded the Artiste line, including the super powerful Mondrian profile.
The last item is by far the most unique lighting element on the show floor.  From the French manufacturer minuit une is the IVL Lighting, its an odd hyrbid of laser effect and light.  About 30 square it has a 20k scanner and 4 double sided lenses that can make really big looks from the one fixture.  Really need to watch the video above to see what it can do.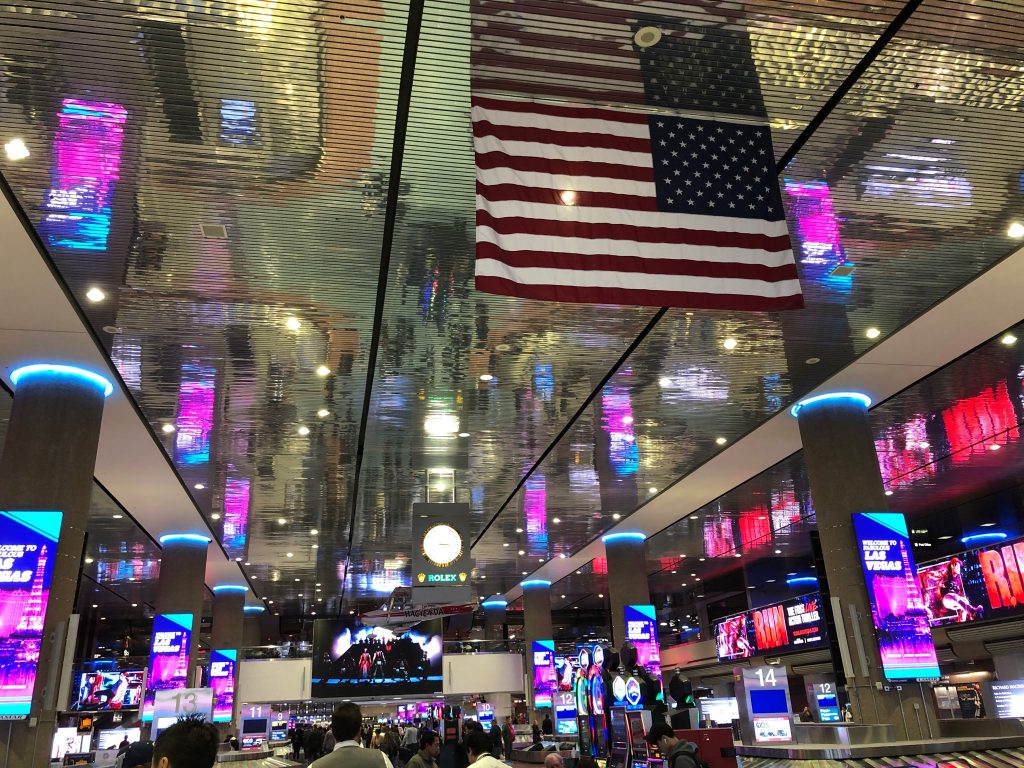 LDI 2019 did not disappoint, lots of amazing gear, there was much more than just the small amount covered here, be sure to keep up with the industry magazines and facebook groups for the latest!